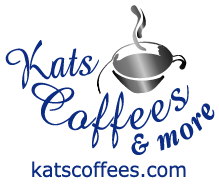 Gourmet coffee, gourmet flavored coffee, flavored coffee, coffee syrups, flavored coffee syrups & more from Kat's Coffees - gourmet coffee specialist. MunchkinMenus is pleased to offer top of the line gourmet coffees from Kat's Coffees - a gourmet coffee specialty as part of our product line. Kat's Coffees features over 500 delicious items!
| | | |
| --- | --- | --- |
| | | |
| | | |
| Cocoas | Mealtime Mixes | Baked Goods |
If you haven't seen any of the Kat's Coffees gourmet coffee products before, you're in for a real treat. There are so many fabulous and delicious items, Kat's Coffees will keep you coming back for more. Pull up a chair, relax, and browse our items. Perfect for yourself or as a gift, Kat's Coffees has what you're looking for!
| | |
| --- | --- |
| | Click on the picture on the left. Enter the items you want from Kat's Coffees and submit the form. We will then calculate your shipping costs and your order total and send you a Paypal invoice. If you prefer to pay by check or money order, please notify us by email at the time you submit your order. Orders are not shipped until payment is received. |
|   |   |
Host A Coffee Party

Invite your friends over to try some of the best gourmet food and drinks around. Make it a theme for a fun time with your friends. A pajama party, tea party, girls night out, holiday party & a basket making party are all great ideas.
Hostess Benefits
Receive 1 item at 50% off for every $50 orders turned in.
Receive 10% of all orders in free product and 10% off your personal order for parties up to $150.
Receive 15% of all orders in free product and 15% off your personal order for parties over $150.
Receive $5 in free product for every booking (show must be held before you receive the free product).
Do you want to work from home and have more time to spend with your family? Kat's offers a flexible schedule where you have no limits to the money you can earn. It's only $5 to join and a very low quarterly order requirement of $50. With over 300 products Kat's has something for everyone.